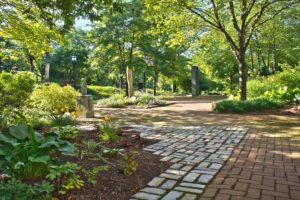 Landscaping in the City Hall Sculpture Garden
Bethlehem's Sculpture Garden, which nestles in a shaded hollow on the east side of City Hall, is a favorite spot where residents stroll or linger to enjoy the art and the garden plots.  On five or six Friday evenings in June and July the Bethlehem Fine Arts Commission (BFAC) hosts free concerts there to which families bring blankets, folding chairs, and picnics.  That happy scene is shown in photos by artist Sheila O'Connell.
In the late 1990s, BFAC rearranged the sculptures and landscaped the garden with the help of a commercial nursery.  Over the decades, upkeep of the ornamental plantings waxed and waned.  In the Spring of 2011, a group of volunteer neighborhood gardeners and BFAC members undertook to restore the site.  Master Gardener Suzanne Allen came to offer planning and planting ideas. 
On several work-mornings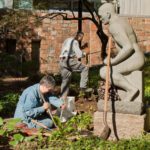 we uncovered valuable old plantings, pruned overgrown shrubs, pulled weeds, and put in new perennials.  Generous home gardeners donated treasures from their own yards:  red twig dogwoods, Solomon's seals, Italian arums, Japanese holly, wygiela, and many native plants.  We added a graceful dwarf Japanese maple and yearly put in colorful annuals such as coleus and caladiums.  In addition, Bethlehem Backyards for Wildlife donated winterberry hollies and a bird house.  Because it contains shelter, nesting sites, and food for birds, the Sculpture Garden is now designated a Certified Wildlife Habitat by the National Wildlife Federation.  The plantings are maintained by BFAC members and public spirited Bethlehem residents.
The city's Parks Department complements our landscaping work by keeping the surrounding banks of the site tidy.  When the Department installed a water tap in the garden we no longer had to bring water from home to maintain the plants.  To our great satisfaction, this restored glen has won warm praise from concert goers, strollers, and city staff on break. 
Our latest challenge was to recover from excavation in 2014 to install underground gas lines through the Sculpture Garden
. Step-by-step we have brought the site to life.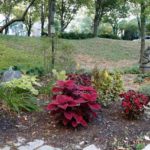 Next, BFAC will work with the city to install some seating and improve handicapped access. 

The next time you are at City Hall or the Library, come see this peaceful natural amphitheater and, in the green season, our gardening.  

All gardens are works in progress, so the Sculpture Garden needs upkeep.  Please join us on an occasional, short work party whether or not you have a green thumb.  It's a rewarding project and a way to help this gem in our community stay lush.  To explore volunteering, contact Clint Walker, clintonbwalker@verizon.net.