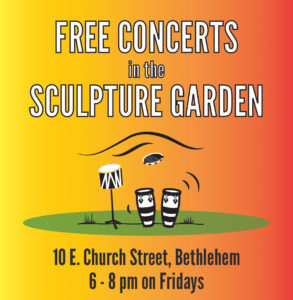 2016 Concert Schedule 
The Bethlehem Fine Arts Commission is pleased to announce another exciting lineup of musicians for our upcoming summer concert series, "Friday Evenings in the Sculpture Garden", from 6:00 p.m. – 8:00 p.m.
Musicians and Styles:
June 10 – Craig Thatcher Acoustic Band
Classic rock, blues standards, and original tunes will kick off the concert series.
June 17 – Lehigh Valley Folk Music Society
This eclectic blend of folk music will be followed by a ukulele jam open to all. Bring a uke if you have one!
June 24 – Charlie Brown's Notorious Groove
You'll be grooving in the garden to some old-school R&B, funk, jazz and Motown tunes.
July 8 – The Monkeephiles
We'll all be "daydream believers" at this faithful tribute to the music and fun of the Monkees!
July 15 – Hector Rosado y su Orquesta Hache
The concert series will close with salsa, merengue and Latin jazz – including a group dance lesson for anyone who wants to salsa!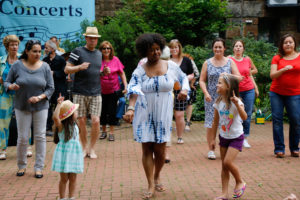 General Information about the Concert Series
Concerts are held in the beautiful, shady amphitheatre style Sculpture Garden just east of Bethlehem City Hall, 10 E. Church Street. The concerts are held rain or shine. Rain location is in the City Hall Rotunda, next door.
These concerts have become, for many, a favorite start to a summer weekend. The concerts are held Friday evenings from 6-8 pm in June and July and are FREE TO THE PUBLIC! Concert-goers should bring a lawn chair or blanket, and may bring a picnic and non-alcoholic beverages. Refreshments are also available for purchase.
The sculptures in the garden are either commissioned, purchased after completion, or received as gifts. Pieces are continually being added to the growing repertoire of works by well-known, respected sculptors such as Rudy Ackerman, Harry Bertoia, Antonio Salemme, Tim Considine, Renzo Faggioli and more. With the City's generous financial help, Commission members and community volunteers spend time every spring and summer planting perennials, trimming back overgrown shrubs, and readying the garden for the growing season. The Sculpture Garden is a great place to sit under the trees while you dine on a bag lunch and enjoy the surroundings.
The 2016 concert series is sponsored in the main by Embassy Bank, Pennsylvania Council on the Arts, and Fox Optical. Barbara Diamond, Bob Blum, and many audience members gave donations at concerts in 2015 to help fund the 2016 concert series.
Sponsorships for the concert series are still available. A basic sponsorship starts at $100.
Bethlehem Fine Arts Commission
The Bethlehem Fine Arts Commission was founded in 1963. Ever since, we have worked to bring quality art events to the Lehigh Valley. Annual and semi-annual events include the Tribute to the Arts award celebration, the Downtown Bethlehem Fine Art & Craft Show, the Summer Concert Series in the Sculpture Garden, the Paint-Out, and year-round juried art shows in the Rotunda.
2016 Sponsors