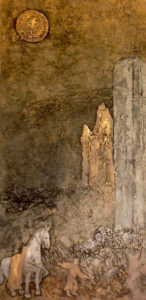 The Printmakers Society of the Lehigh Valley will be exhibiting their "Fourth Year Anniversary Impressions" at the Bethlehem Town Hall Rotunda Gallery from September 5 to October 13, 2017. 
There will be an opening reception on Sunday, September 10th from 2:00 – 4:00 PM.  The Rotunda Gallery is located at 10 E. Church Street.  Gallery hours are Monday to Friday from 8:30 AM to 4:30 PM.
Founded in 2013 by Richard Redd, retired head of the Art Department at Lehigh University, and noted collograph artist, the PSLV is a collective of artists creating hand-pulled prints. Now in their 4th year, the society includes 35 local printmakers.  Their exhibitions provide an intriguing collection including monotypes, etchings, wood cuts, collographs, drypoints, linocuts, lithographs, screen prints, platinum palladium monoprints, and silk aquatints.  
The exhibition is sponsored by the Bethlehem Fine Arts Commission. Opening Reception: Sunday, September 10th from 2:00 to 4:00 PM
PRINTMAKERS SOCIETY OF THE LEHIGH VALLEY 
"Fourth Year Anniversary Impressions"
September 5 to October 13, 2017
Bethlehem Town Hall Rotunda Gallery, 10 E. Church Street, Bethlehem, PA
Hours: Monday to Friday from 8:30 AM to 4:30 PM