NEWS RELEASE
FOR IMMEDIATE RELEASE
For May 13 & 14, 2017
PRESS CONTACT: Sandy Gillen at jslbg2@verizon.net
The Bethlehem Fine Arts Commission is pleased to announce their 52nd Annual Bethlehem Fine Art and Craft Show. Held over Mother's Day Weekend, the sidewalk art show along Main Street in Historic Bethlehem is a celebration of the finest local and regional artists. Over 80 juried artists and craft artisans participate each year in this two-day outdoor Fine Art Show.  
Judging takes place on Saturday and our judge this year is artist Kailey Goodnuff, director of K-12 school programs at the Allentown Art Museum. The judge visits each booth and selects the Best of Show, Second Prize, Third Prize, and Best Display. 
Prizes are awarded to the artists Saturday evening at a reception sponsored by the Bethlehem Fine Arts Commission.
One of the delightful elements of the event each year is the Artist In Residence. Be sure to stop by the Artist in Residence tent to chat with and/or observe painter Tim Shanley at work!
We invite families (and children of all ages) to take part in our Children's Art Activities. Join in on fun interactive art projects, or make mom a handmade gift or card! Located on the grounds of the Historic Smithy, located across from the Moravian Book Shop!
To complement the festivities, local musicians perform along the Show route. Enjoy acoustic tunes as you peruse the artist stalls along the way. 
Please join us on Saturday, May 13th from 10am to 5pm and Sunday, May 14th from 11am to 5pm.  In addition to this diverse art show, Bethlehem boasts great restaurants, shops, hotels, and a rich history. It's a perfect opportunity for the whole family to enjoy a wonderful experience in Historic Downtown Bethlehem. AND there is no admission fee!
The Fine Art & Craft Show is sponsored and organized by all volunteer Bethlehem Fine Arts Commission.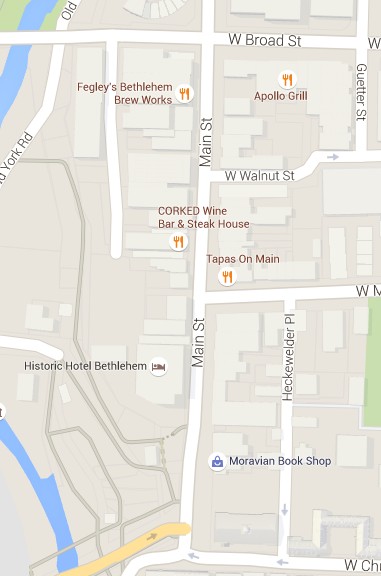 52nd Annual Bethlehem Fine Art and Craft Show Press Release Coming Soon
To apply to the 2017 show…
All applications must be submitted online through Zapplication.org. 
If you are new to ZAPPlication please visit www.zapplication.org and click on the Register Now button in the upper right corner of the ZAPPlication home page.  After you register on ZAPPlication, you can search for the show prospectus on the ZAPPlication site, or use the direct link:  https://www.zapplication.org/event-info.php?ID=5333