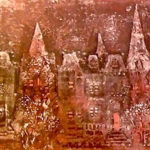 The Printmakers Society of the Lehigh Valley will be exhibiting their "Fourth
Year Anniversary Impressions" at the Bethlehem Town Hall Rotunda Gallery from September 5 to October 13, 2017.
Opening Reception: Sunday, September 10th from 2:00 to 4:00 PM
Read More
2018 Grants 
The Grants Committee of the Bethlehem Fine Arts Commission (BFAC) invites arts organizations to apply to it for funds to support their activities that will take place in Bethlehem between June 1, 2017 and May 31, 2018.  This grant program supports the mission of the Fine Arts Commission, which is to provide leadership in the arts through advocacy, education, and celebration.  The grants are offered to encourage new works of art, educational programs, exhibits, presentations, and other arts-related activities.