Sculpture Garden Concert Series
Free concerts Fridays 6 – 8 p.m. in the Bethlehem Sculpture Garden.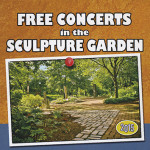 June 12th – The Large Flowerheads
June 19th – Enerjazz featuring Vicki Doney
June 26th – Hector Rosado y Orquesta Hache
Read more
Rotunda Gallery Shows
SEPTEMBER  Rotunda Show: Printmakers Society
of the Lehigh Valley
2nd Anniversary Exhibition "Creative Imprints"

The exhibit offers an intriguing and fresh
collection of fine art hand-pulled prints
Read More
Downtown Bethlehem Fine Art and Craft Show 2016
The 51st Annual Juried Downtown Bethlehem Fine Art & Craft Show will take place

Mother's Day weekend, May 7th and 8th, 2016

. Main Street will be filled with over 80 fine artists and craft artisans displaying and selling their art. Street music, an artist-in-residence, a raffle with chance to win a piece of fine art, and a children's art area will add to the festivities. As always, there is no admission charge!